Abernethy Butter Company in Dromara signs Fortnum and Mason deal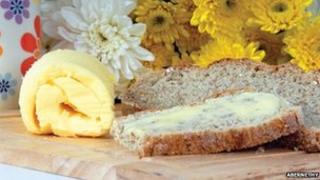 Abernethy Butter Company in Dromara, County Down, are spreading their success all the way to Fortnum and Mason in London.
The small NI company has now begun providing its homemade butter to the high-end retailer.
Enterprise Minister Arlene Foster has congratulated the firm for winning business from the retailer.
Abernethy Butter Company, which was founded in 2005, makes hand-churned butter on their farm in Dromara.
The business is Abernethy's first significant retail success in Britain.
Arlene Foster said: "This is very good news for one of our smallest food processing businesses. Winning business from such a prestigious retailer as Fortnum and Mason is a tremendously important achievement by the husband and wife team Will and Allison Abernethy.
"They've created a highly innovative product which combines a distinctively rich taste with the heritage and provenance that shoppers are increasingly demanding."
'Immensely exciting'
The small company is the only manufacturer of hand churned butter in Northern Ireland.
It also recently secured a contract to supply its butter to Heston Blumenthal's Fat Duck restaurant at Bray in Berkshire.
Mr Abernethy said: "Our new business with Fortnum and Mason is a marvellous and immensely exciting endorsement of the quality of our handcrafted butter.
"It's an extremely encouraging breakthrough in Britain that will help us enormously as we work to build our business particularly outside Northern Ireland. There's tremendous interest in the natural and richly flavoured butter that we are producing.
"Each roll of butter is lovingly made just like granny did in the farmhouse kitchen so many years ago. We are both passionate about the quality, texture and taste of our butter. It's immensely rewarding to bring a traditional technique back to life and it's now proving extremely popular," he said.