BBC NI's Spotlight wins top award for Quinn programme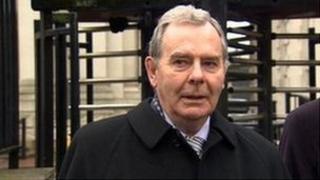 BBC Northern Ireland's Spotlight programme has won a major honour at the Irish Film and Television Awards in Dublin.
It won in the Current Affairs category for the investigation Spotlight: Sean Quinn's Missing Millions.
The programme was originally broadcast on BBC Northern Ireland in May 2012.
It saw BBC NI's Business and Economics Editor Jim Fitzpatrick investigate the Irish Bank Resolution Corporation's attempts to recover hundreds of millions of pounds worth of Quinn assets, which lay within a vast international property portfolio.
The investigation led Spotlight to Belize in Central America, via Stockholm in Sweden and Kiev in Ukraine.
Jim Fitzpatrick said winning the award was a great honour.
"This investigation was a real team effort and this award is a tribute to the talent and experience of so many people who work in current affairs in BBC Northern Ireland," he added.
Jeremy Adams, Head of Television Current Affairs BBC NI said: "It is a fantastic achievement to be awarded for best Current Affairs programme at the IFTAs for a story which has such resonance across the whole of this island.
"This was a painstaking investigation and Jim and the Spotlight team spent hours and travelled miles in their attempt to unravel the incredibly intricate and important story."