Mid Ulster by-election date set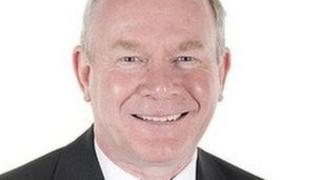 A by-election to replace Sinn Fein's Martin McGuinness as Mid Ulster MP will be held on 7 March.
Mr McGuinness, who is the deputy first minister of Northern Ireland, announced last year that he would resign as an MP
He formally left his seat on 2 January. Sinn Fein has pledged to end the practice of its representatives double jobbing in more than one elected body.
Mr McGuinness was elected MP for Mid-Ulster in 1997, but he has never taken his seat in Westminster.
The party has an abstentionist policy, with all of its MPs refusing to attend Parliament.