Tyrone terror camp accused Gavin Coney in Supreme Court bid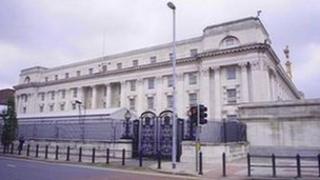 A man accused of taking part in a terrorist training camp is attempting to seek bail from the UK Supreme Court.
Gavin Coney is attempting to overturn a ruling that he should remain in custody to ensure public protection.
He denies taking part in a County Tyrone terrorist camp in March 2012.
His lawyers want permission from the judge who refused him bail to take a challenge to the Supreme Court on a point of law of general public importance.
It is believed to be the first time an attempt has been made to go before the law lords with a failed High Court bail application.
Mr Coney's legal team must first establish there is jurisdiction for such an unparalleled move.
The 35-year-old, of Gorticashel Road, Omagh, County Tyrone, denies charges of preparation of terrorist acts, possession of a firearm with intent to endanger life or property, and attending a place used for terrorist training.
He is alleged to have been involved in a rifle firing exercise in advance of a potential attack on police.
The prosecution previously set out claims that Mr Coney and three other suspects were in Formil Wood, close to his home, last March when 200 rounds of ammunition were fired.
Balloons pinned to trees
According to the case against him balloons were pinned to trees as targets, with only 15 shell cases recovered due to a deliberate attempt to cleanse the area of evidence.
Searches of his house led to the recovery of a legally held Walther .22 rifle, telescopic sight and silencer, four balaclavas, four identical dark jackets and bottoms, gloves and four pairs of white trainers of various sizes. All of the items were new and unworn.
Mr Coney has insisted he used the rifle for sporting and recreational purposes in the woods, using balloons and tins as targets.
He said the clothing in his attic was for Canadian colleagues who wanted protection from the elements during mining work.
In one of the longest High Court bail applications in recent years, it was stressed that Coney is still presumed innocent.
The judge had to decide whether a suspect with a completely clear record should be kept in custody because the type of alleged offences carry a risk of offending.
Following consideration of complex legal issues, Mr Justice Maguire denied the application last November.
But Coney is now seeking permission to mount a challenge to that decision at the Supreme Court in London.
During a hearing at the High Court today, his barrister argued there was jurisdiction for the judge to certify the case for consideration.
He said: "It is something that has significance beyond merely this application."
Following discussions, Mr Justice Maguire allowed him more time to try to establish any legislative backing for his contention.
"It's an important point which will have repercussions not just for this case but for the practice in the bail court generally," he said.
The judge predicted that if Mr Coney's lawyers can establish a right of appeal to the Supreme Court others may follow suit.
Adjourning the case for a week, he added: "People refused bail have nothing to lose in seeing to pursue an application to whatever court they can get to.
"That's understandable if you were in their shoes."