NI needs hundreds of foster families, says charity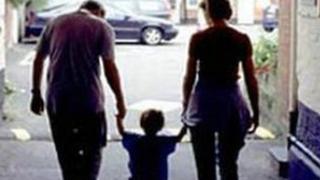 At least 200 new foster families are needed across Northern Ireland this year to look after the record numbers of children in care, figures show.
The Fostering Network said the number of children in care rose for a second year in a row and is continuing to rise.
On any one day, there are 1,950 children living with foster families in Northern Ireland.
Hundreds more go in and out of care throughout the year.
The Fostering Network said more foster families are needed to replace the 13% of the workforce who retire or leave every year.
Margaret Kelly, of the Fostering Network Northern Ireland, said: "Despite fostering services attracting more people to become foster carers, the continuing rise of children coming into care means hundreds more are still needed.
'Right skills'
"These children need a stable family life to help them grow and achieve their potential.
"By becoming a foster carer people can help them have the best possible opportunity for a positive future, to do well at school and be successful in later life.
"Fostering services are looking for people from all walks of life to become foster carers, of all ages, and from single people to large families.
"What matters is that they have a desire to work with children and the right skills."
The charity is warning that, without new families, too many children will fail to get the care they need.
To find out more about becoming a foster carer people should contact their local fostering service.