'Scandalising the court': Stormont committee in bid to abolish offence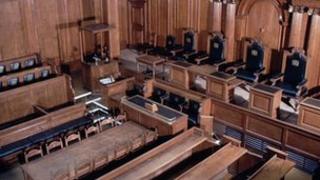 The Stormont justice committee wants to abolish the ancient offence of "scandalising the court".
It has tabled an amendment to a Criminal Justice Bill currently making its way through the assembly.
The offence hit the headlines last year when the NI Attorney General John Larkin used it to bring contempt of court charges against the former NI Secretary of State Peter Hain.
It was over comments made about a judge in a book.
The case was later dropped, but not before the use of the old law provoked criticism from more than 100 MPs.
In November, the Justice Minister David Ford declined an offer from the UK Ministry of Justice that the offence could be abolished as part of a review of the law under way in England and Wales.
Mr Ford said any decision should be taken by Stormont but added that, in his view, abolishing the offence was not important compared to his many other priorities.
However, the Stormont justice committee has now put forward its own amendment abolishing the offence.
The amendment is likely to be considered when the Criminal Justice Bill is debated again in the assembly on Tuesday next week.