Burgers recalled from NI schools are 'clear of horse DNA'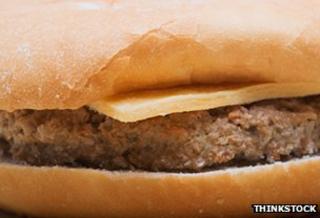 A company that makes burgers supplied to Northern Ireland schools that were recalled, has said tests show they are clear of horse DNA.
Henderson Food Service had recalled the burgers after contacting one of its suppliers to seek assurances they were unaffected by the horsemeat scandal.
They were told the burgers were undergoing additional testing.
The supplier, Liffey Meats, has now said the tests show they are clear of horse DNA.
On Thursday evening, Henderson Food Service confirmed they had "received news that independent tests carried out by the supplier have come back negative".
It said that in light of the results it would be "contacting the education boards to discuss next steps regarding the product recall".
Earlier, another Northern Ireland education board withdrew beefburgers from school menus over the horsemeat issue.
The North Eastern board joined the South Eastern board in withdrawing burgers.
Earlier, the Southern board said it had reinstated burgers after "confirmation from suppliers that all meat supplied is from a bovine source".
Northern Ireland's other two education boards - the Western and Belfast boards - have said they will be keeping burgers on the menu.
The Western board said after speaking to its suppliers it had no plans to withdraw them.
"The situation is being closely monitored and, if circumstances change, further action may be taken," it said.
"It should be noted that with the introduction of nutritional standards the vast majority of meals offered to pupils are freshly cooked using fresh local produce."
The Belfast board said school caterers place a "very high priority" on ensuring that any products supplied to children and young people meet quality standards.
"In light of recent events, the school catering service immediately sought assurances from suppliers that products used by the service were not affected," it said.
"Given these assurances, burgers have not been removed from the menu of schools in the Belfast Education and Library Board area. This situation will remain under review".
The Southern board had removed both fresh and frozen burgers from school meals in January.
However on Thursday, a spokesperson said: "Burgers have been reinstated on school menus by SELB catering service following receipt of confirmation from suppliers that all meat supplied is from a bovine source."
In its statement, the North Eastern board said: "We would like to reassure parents that the meat used in our school kitchens is supplied locally and all menu items such as spaghetti bolognese, or meatballs, are prepared by the school catering staff using fresh, steak minced".
"However, as a result of current issues with regard to meat processing, the catering service felt it appropriate not to offer steak burgers as a menu choice with effect from 6 February 2013, until further clarification is obtained from our suppliers".
"We trust that this precautionary measure provides parents and pupils with reassurance and confidence in the menu items that are on offer in our school kitchens".
The South Eastern board began taking frozen burgers off the menus on Wednesday.
It said: "The boards administering the contracts for the supply of frozen beefburgers have received from its suppliers assurances that none of the burgers which they supply are affected with equine DNA."
It added that the burgers were not initially withdrawn but the board had "reviewed its position in light of more recent media coverage" and began taking frozen burgers from school meals' menus from Wednesday.
Last month, Irish authorities discovered horsemeat in some burgers stocked by some UK supermarket chains.
'Premature move'
Ulster Unionist MLA Danny Kinahan said taking burgers off school menus was a premature move.
"This isn't a health problem, this is just a labelling problem," he said.
"If this is local produce, the meat is probably, absolutely fine.
"I think we should be waiting until we know more before decisions like that are made, because it's going to damage the local farmers and they are already having a hard enough time."
On Wednesday, DUP MEP Diane Dodds described the horsemeat scandal as one of "mammoth proportions".
She attended a meeting of EU officials from countries affected in Brussels, which had been called by the Republic of Ireland which currently holds the EU presidency.
Agriculture Minister Michelle O'Neill said 2012 had been an "exceptionally difficult year" for farmers and the horsemeat controversy was "therefore a very unwelcome development".