Police condemn shooting of men in north Belfast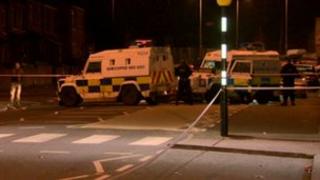 Police have condemned the shooting of two men in north Belfast.
One of them had emergency surgery following the shooting in Oldpark Road on Friday evening.
Both men, who are in their 20s, are in a serious but stable condition in hospital. The incident was reported to police at 19:30 GMT on Friday.
North Belfast Area Commander, Ch Insp Andy Freeburn, described the attack as "reckless and callous".
"This was an utterly reckless attack with up to 40 members of the public, including women and children, in close proximity," he said.
"Two people have been very seriously injured but we are lucky that we are not dealing with many more casualties today.
Wounds
"This type of attack is unacceptable in our community - no one deserves to be hurt or injured in this way and no one has the right to put the safety of so many at risk."
Police believe up to ten shots were fired at a 24-year-old man who was standing beside a car. He sustained a number of gun shot wounds.
A 22-year-old man, who was sitting inside the car, was also injured.
Sinn Fein MLA Gerry Kelly said the men were lucky to be alive.
"Last night in particular was clearly an attempt to murder two people, and indeed it was beside the shops up here behind me," he said.
"People were moving in and out of those shops and we could have been talking about not just two fatalities this morning, but others."
Ch Insp Freeburn said a police investigation was ongoing.
"We will do everything we can to find those responsible and bring them before the courts," he said.
"The help of the local community is vital in helping us create a clear picture of this attack and we would ask for their support as we conduct our enquiries."