Crusaders-Cliftonville cancellation: Three charged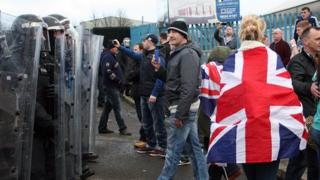 Two men in their 40s and a 21-year-old woman have been charged following Saturday's protest outside Seaview football ground in north Belfast.
All three are accused of disorderly behaviour and assault on police, while one of the men is also charged with a provocative act.
They were released on police bail to appear in court on 13 March.
The Irish Premiership match between Crusaders and Cliftonville was called off due to the protest.
The two clubs are north Belfast rivals. Cliftonville have a mainly Catholic fanbase, while Crusaders have a mostly Protestant support.
Seaview, Crusaders' ground, is on the mainly loyalist Shore Road.
It is understood there had been tensions about Cliftonville fans walking through the Skegoneil area on the way to the ground.
In a statement, Crusaders FC said: "Crusaders Football Club would like to thank the local residents of Skegoniel Avenue for the considerable engagement that has taken place since November to manage this match.
"We are disappointed that these efforts have been undermined.
"We would like to thank the supporters of both clubs for their forbearance. The football family need to hold together in sport at this difficult time."
North Belfast MP Nigel Dodds called the cancellation of the match "a sad day" for football and for the area.
Police said they were attacked with bottles and other missiles after they began moving protesters.
Mr Dodds said it was "deeply disappointing".
"I want to pay credit to the two clubs Cliftonville and Crusaders, along with the residents in Skegoneill and others - community workers, political representatives - who had all worked very, very hard to try to get an agreement, had reached an agreement," Mr Dodds said.
"Unfortunately the events of yesterday meant the game didn't go ahead.
"I think it's a sad day for football and a sad day for north Belfast.
"We will be working in the coming days in conjunction with everybody of goodwill to try to move things forward."
Mr Dodds said reports of "heavy-handed" policing should be investigated.
Safety concerns
A small 'white line' protest had been allowed to take place for about 40 minutes on Saturday afternoon.
Police moved it on to allow fans to get into the north Belfast ground.
The match was called off at 15:10 GMT because of safety concerns.
Most Cliftonville supporters and many Crusaders fans had been unable to gain access to the stadium.
A police spokesperson said: "Upon learning of the public disorder both clubs advised police that the game would not proceed.
"This is a regrettable outcome for the clubs, the many genuine fans who wanted to watch the match and indeed the wider north Belfast community."
'Disheartening'
The Irish Football Association (IFA) said: "The fact that it had to be postponed for reasons not related to football is grossly unfair to the players, fans and officials of both clubs who work so hard and dedicate so much time to our domestic game."
Sports Minister Carál Ní Chuilín said the protest had nothing to do with football and players and fans had been left frustrated.
"Now, instead of reflecting on a derby game featuring the top two teams in the league, we are looking back at a disheartening afternoon for everyone connected with the clubs," she said.
"Crusaders and Cliftonville, while rivals on the pitch, have forged many links in recent years and I trust the events of today will not derail those efforts."
Secretary of State Theresa Villiers said: "It is regrettable that an afternoon of sport was ruined by violent protests.
"Such behaviour achieved nothing except upset and disruption for fans and local residents who were looking forward to the game."