Lutton denies running purely because of Sinn Fein candidate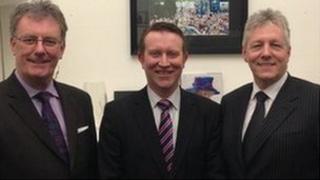 The unionist unity candidate in the Mid Ulster by-election has denied he is standing because Sinn Fein is fielding Francie Molloy.
As Mr Lutton handed in his nomination papers on Tuesday, he said: "It is not about his past or my past."
In 2007 the DUP MP David Simpson used parliamentary privilege to claim the Sinn Fein MLA had been a suspect in the murder of Mr Lutton's father in 1979.
The by-election will take place on 7 March 2013.
Accompanied by the Ulster Unionist and DUP leaders Mike Nesbitt and Peter Robinson, Mr Lutton refused to say which party he normally supported, adding: "I vote on conscience."
Asked if he supported the power-sharing arrangements at Stormont he said they had been endorsed by democracy.
Other candidates standing in the election include Patsy McGlone for the SDLP and Eric Bullick for the Alliance party.