Dentist 'prescribed mouthwash for woman with tongue cancer'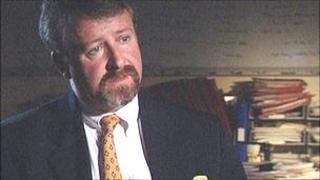 A dentist facing 46 counts of malpractice prescribed mouthwash for a patient with a cancerous tongue, a hearing in London has been told.
Prof Philip Lamey of Belfast's Royal Victoria Hospital failed to spot a cancerous lesion on a 78-year-old woman's tongue, it was claimed.
However Prof Lamey insisted to the General Dental Council that he had spotted the cancer.
The professor faces charges over 33 patients. Four later died of cancer.
The 78 year old was seen at four separate appointments in 2008-9, the General Dental Council heard.
Giving evidence to the hearing in London, her daughter, known as Mrs F, claimed that instead of correctly identifying the lesion, Prof Lamey prescribed iron supplements and a mouthwash for what he believed was a mouth ulcer.
It was not until her mother was given surgery to remove the "ulcer" at a fourth appointment in October 2009 that the cancer was uncovered, Mrs F claimed.
"I can remember asking him at the first appointment the question 'Are you sure you are happy you don't want to do a biopsy to check this is not something worse?' and he said 'No, this is something painful and because it is painful, it is nothing sinister'. I took this to mean not cancer," Mrs F said.
"My mum is not stupid, if she heard the word biopsy she would have flagged it up," Mrs F said.
"I am not stupid. I have a degree in biology. I would have wanted more information if the word biopsy was mentioned, but it never was."
Mrs F did not attend her mother's fourth appointment as she was nine months pregnant and, instead, her mother went with a cousin.
Her mother's health had deteriorated so much by this stage that she needed to be pushed around in a wheelchair, Mrs F said.
"We thought it was just a condition check after the surgery from removing the ulcer," she said.
"If I thought it was the results of a biopsy, I would have been there. My brother would have been there. She certainly would have been with her sister or a close relative.
"It was a total shock when we heard it was cancer. We didn't even know a biopsy was being taken."
Her mother had the cancer removed and has since made a full recovery.
Prof Lamey's lawyers told the hearing that at a third appointment in May 2009, he suggested further investigation was required as the ulcer had not cleared up. It was at this point, they said that he wrote in his notes that Patient 3 refused a biopsy.
But Mrs F denied this.
"I am adamant that at no point in that meeting (May 2009) the word 'biopsy' was mentioned," she said.
"All the way along in this process we believed we were dealing with a mouth ulcer. There was no question she was being treated for anything else."
Asked why she did not ask further questions about her mother's treatment at the meeting, she said: "This was a professor I was dealing with, the top man in the country we thought."
Earlier in the hearing, the court heard how the dentist failed to spot a tumour in a patient's jawbone, instead prescribing sugar-free chewing gum.
David Bradly, counsel for the GDC said: "Prof Lamey gave a diagnosis of temporomandibular joint dysfunction (TMD) and prescribed sugar-free chewing gum for treatment and said he would see her in three months.
"She actually had a tumour in the mandible and was admitted to hospital. She had a SCC and had radiotherapy following an operation."
In total, 15 patients treated by Prof Lamey, who were later found to have cancer, may have had a delay in diagnosis, the hearing was told.
A total of 135 of his patients were recalled to the hospital over misdiagnosis fears.
The hearing is expected to take 19 days and will focus on seven mouth cancer patients who were allegedly wrongly treated by Prof Lamey.
The hearing continues.