Public to have say on Northern Ireland railway plans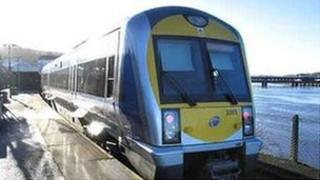 A series of public meetings on future Northern Ireland railway investment has been announced by Regional Development Minister Danny Kennedy.
The first meeting is scheduled to take place in Belfast on Monday at Grosvenor House in Glengall Street.
Mr Kennedy said people could air their views and ask questions.
Other meetings will take place at the City Hotel, Londonderry, on Thursday and the Ballysaggart Business Complex, Dungannon, on 5 March.
The minister said railway investment involved significant capital expenditure with lengthy planning and construction phases.
"Looking forward over the next 20 years, there is a need to set a strategic direction to determine the priority in which new railway projects are tackled," he said.
"These public meetings will allow people to find out more about the future role of our railways as part of an integrated and sustainable transport system in Northern Ireland, to put forward their views and ask any questions they may have."