John O'Dowd in talks over English A-levels move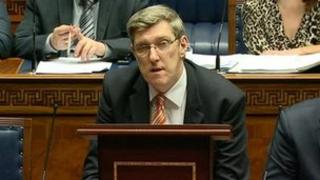 Northern Ireland Education Minister John O'Dowd has discussed proposals to change A-levels and GCSEs in England with a senior Conservative politician.
He had a phone conference with Elizabeth Truss, under-secretary of state for education.
He is concerned that NI students could be disadvantaged when they apply for university places outside NI.
Mr O'Dowd was critical that the plans for England were made before Northern Ireland or Wales were consulted.
A request for a meeting with Education Secretary Michael Gove was refused.
Mr O'Dowd, who said he has no objection in principle to changing A-levels or GCSEs and has already ordered a review of them in Northern Ireland - said changes in England should take into account the repercussions for pupils in Northern Ireland.