Belfast City Hall protest a sea change, says Will Kerr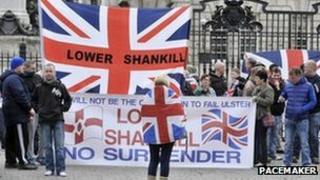 A senior police officer has said a union flag protest at Belfast City Hall on Saturday represented "a sea change".
About 150 protesters were bussed into the city centre for the weekly demonstration.
In previous weeks protesters have paraded into the city centre from east Belfast.
"A small protest took place at city hall with no attempt made to parade unlawfully into the city centre," Will Kerr, assistant chief constable, said.
"The criminal justice consequences for illegal behaviour over the past three months will continue over the coming weeks and months.
"As we enter the parading season, I would again appeal to civic leaders across Northern Ireland to continue to use their influence to ensure a peaceful and respectful summer."
Loyalist street demonstrations have been taking place since 3 December, when Belfast City Council voted to limit the number of days the union flag is flown at Belfast City Hall.
The majority of the street demonstrations have passed without incident, but some have resulted in serious rioting, particularly in east Belfast.