Peter Robinson says police losing unionist confidence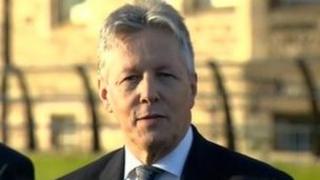 The first minister has said the police must address a perception they treat loyalists differently than republicans.
After meeting Chief Constable Matt Baggott, Peter Robinson claimed a large section of the community do not believe the PSNI were being impartial.
He also claimed there was a belief courts were treating the two sides differently with leading republicans getting bail in contrast to loyalists.
Mr Robinson said that trust needed to be rebuilt.
"It's important that the police gain the confidence of the unionist community, or regain the confidence of that section of the unionist community who have lost confidence in the police, by showing that his actions were entirely even-handed," Mr Robinson said.
"Our job is to express the concerns as we hear them in the community.
"Again we say very clearly to people out there, we want people to desist from being involved in any unlawful behaviour."
SDLP policing spokesman Conall McDevitt said Mr Robinson's comments were "deeply galling".
"I would urge the First Minister to step back from any attempt to interfere with the professional independence of the PSNI," he said.
"To suggest publicly that the actions of the PSNI are politically motivated is outrageous and totally unjustified."