Auditor in warning to Northern Ireland health trusts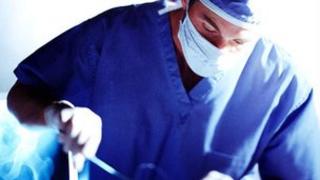 The auditor general has told the health sector that striving to meet targets must not have a detrimental impact on the overall care of patients.
In its latest report, the office recommends all trusts should provide early warnings of potential breaches so that corrective action be taken.
There was praise for the health trusts breaking even.
However, over the past two years none of the trusts met the 95% target of waiting four hours or less at A&Es.
People continue to wait unacceptable lengths of time for hospital appointments and treatment.
In the Belfast Health Trust there were over 1,500 people waiting for knee and hip operations of which 55 were waiting longer than nine months.
There are actually fewer people now attending the emergency department when you compare last year's figures with those between 2010 and 2011.
Despite that, patients are actually having to wait longer - there's been an increase of 38.4%.
On a positive note all health care bodies broke even, including reducing management costs, however the audit office says they must continue to focus on ways to live within their means.
Northern Ireland's auditor general acts independently, examining and certifying the accounts of government departments and a range of other public sector bodies in NI.
He has statutory authority to report to the assembly on how efficient and effective the departments are with their money.