Union flag dispute: Baggott defends PSNI impartiality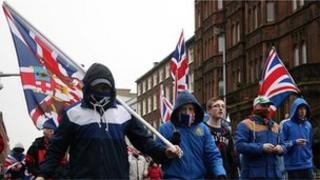 The PSNI chief constable has defended police handling of the union flag protests after controversial remarks from Northern Ireland's first minister.
On Monday, Peter Robinson said the PSNI must address a perception they treat loyalists differently than republicans.
He added that the police must work to "regain the confidence" of a section of the unionist community.
But Chief Constable Matt Baggot said all of the PSNI's actions had been impartial and "within the rule of law".
He added that politicians had made the task of policing flag demonstrations even more difficult because they had failed to reach agreement on the issue.
Arrests
Protests over the union flag dispute have been taking place since 3 December.
Many people within loyalist communities were angered by the decision of Belfast City Council to restrict the number of days the flag is flown at the city hall and took to the streets to protest.
Some of the demonstrations have resulted in violence, and more than 100 police officers have been injured, although none have been seriously hurt.
To date 212 arrests have been made. Of those detained, 160 have been charged with a range of offences.
Unionist perception
In a statement to the BBC's Nolan Show on Tuesday, Mr Baggott said: "Over the past months the PSNI has successfully dealt with an incredibly volatile situation with great patience and professionalism.
"A situation made all the more difficult by the absence of political consensus.
"All of our actions have been taken impartially and within the rule of law," he added.
Mr Robinson made his remarks after a face-to-face meeting with the chief constable on Monday.
During the meeting the first minister raised concerns that there was a perception within unionist communities of unfair treatment of protesters on the part of the PSNI.
He also claimed there was a belief courts were treating the two sides differently, with leading republicans getting bail in contrast to loyalists.
Warning
The SDLP described Mr Robinson's comments as "outrageous" and said it was going to check if the remarks were a breach of the Stormont's ministerial code of conduct.
In his response, Mr Baggott said: "For weeks I have been warning about the consequences of lawbreaking and the fact that evidence was being gathered. There should be no surprises with the outcomes."
In regard to allegations of unfairness, the chief constable said: "Conversely, we have received very favourable feedback from across all communities regarding our measured approach."
Mr Baggott said he had "reminded the first minister" that decisions about prosecutions and bail were taken "independently" by the Public Prosecution Service (PPS) and the courts.
"Each case is unique and I have not seen any unfair interpretation of the rules or due process," he added.
The chief constable repeated his assertion that policing "does not hold the solutions alone" to the union flag dispute and he called for renewed political talks on the issue.