Defence cuts: Northern Ireland to lose up to 120 Army jobs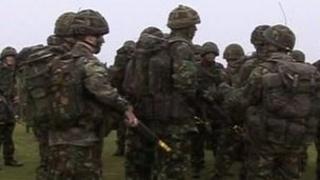 About 120 soldiers based in Northern Ireland are to lose their jobs during the next 18 months as part of plans to restructure the Army.
All current military bases and training facilities in Northern Ireland will remain open under the plans.
However, the number of troops based in them will be reduced to about 2,000.
That figure is similar to the troop deployment level in Northern Ireland before the outbreak of the Troubles.
There are also about 1,600 civilians employed by the Ministry of Defence in Northern Ireland.
A spokesman said there are currently no plans to reduce those numbers.
The troop cuts were announced as part of the government's shake-up of UK Army bases, introduced to accommodate thousands of soldiers returning from Germany over the coming years.
Four Army bases in Great Britain are set to close under the plans: Claro Barracks and Howe Barracks - both in England, Craigiehall in Scotland and Cawdor in Wales.
Parts of Edinburgh's Redford Barracks, Forthside Barracks in Stirling and Copthorne Barracks in Shropshire will also shut.
In its 2010 strategic defence review, the coalition said it wanted to withdraw all 20,000 troops in Germany, plus their families, by 2020.
About 4,000 troops have already moved back to the UK since then, but the pull-out has now been accelerated.
The government has said the changes will provide savings and efficiencies for the Army, but Labour said there were "enormous questions" over whether the move would save money.