Dentist Philip Lamey 'could not know if patients had cancer'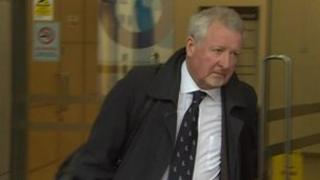 A dentist had no way of knowing if some of his patients had cancer or not because he did not carry out biopsies on them, a misconduct panel has heard.
Four of Professor Philip Lamey's patients died and 15 others were diagnosed late with the disease because of his incompetence, it is alleged.
He is now facing 46 charges relating to 33 patients he treated at the Royal Victoria Hospital in Belfast.
He could be struck off if found guilty by the General Dental Council.
A GDC panel heard Prof Lamey failed to carry out a biopsy on a high cancer risk patient who smoked 20 cigarettes a day when he presented with a lesion on his lip.
The lesion begun to get bigger but still the dentist failed to test for the disease, it was claimed.
Expert witness Dr Stephen Layton told the hearing in central London: "In my view no clinician would be able to distinguish between a malignant or pre-malignant lesion or not without doing a biopsy.
"It should have been done."
In total 135 patients were recalled after the alleged failings of Prof Lamey came to light.
The dentist is also accused of failing to spot tumours in other patients and instead prescribing iron tablets, mouthwash or sugar-free chewing gum.
The hearing, which has already been going for three weeks, continues.