Young pups rave it up at Belfast Children's Festival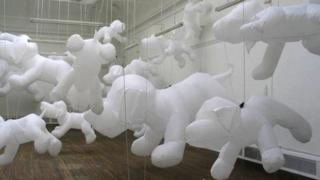 Gigantic, inflatable pups from space, a rave up for babies, melonheads and babble in a bubble - that's the intriguing line up for this year's Belfast Children's Festival.
The week-long festival, now in its 15th year, will stage scores of arts and music events throughout the city from 8-15 March.
The programme aims to entertain children of all ages, from teenagers to toddlers through to newborn babies.
It has been organised by the children's charity Young at Art, which is promising a "week-long dose of unforgettable fun and creative magical experiences for children aged 0-14".
The highlights include the Space Pups installation at the Ulster Museum, where a litter of huge, blow-up dogs dangle from the ceiling of the south Belfast building.
Dad dancing
In the city centre, Belfast Waterfront is hosting a Baby Rave, where children under the age of four can hit the dancefloor and shake, rattle and roll.
There will also be the opportunity for some embarrassing dad dancing, as their parents have to get their groove on and rave along as well.
For four-year-olds and over who would much prefer a live gig, composer Brian Irvine is bringing his eight-piece band, Melonhead, to Belfast's newest arts venue, the MAC.
There is also a cautionary tale for big bad wolves, warning them not to mess with vengeful young hoods. The Waterfront is set to stage a musical adaptation of Little Red Riding Hood, with a pistol-toting twist on tradition by Roald Dahl.
'Vocal wonderland'
For those too small to take on the wolf, there is Babble - a music and projection show for babies aged 0-18 months.
The show is presented by the Belfast theatre company Replay, which specialises in performances aimed at young audiences.
It describes Babble as a "vocal wonderland made from live voices and video". It is staged inside the company's "magical, new portable indoor performance space", which it calls the "bubble".
The director of the Belfast Children's Festival, Ali Fitzgibbon, said it has grown steadily from "small beginnings" in the late 1990s, through to this year, when it plans to stage more than 170 different events over eight days.
She is particularly excited by the Space Pups. It is the work of a Nottingham company called Space Cadets, which produces inflatable structures for artistic and commercial use.
Ms Fitzgibbon had to persuade the Ulster Museum to allow drilling and cabling on the roof of its shiny new foyer in order to install the pups, but said everyone seemed to be delighted with the result.
"I think there is an assumption all the time that children need things that are very loud and raucous and that they have to be fast-moving," she said.
"This is actually something that's quite calm and quiet soft and gentle. To me that's about showing that children actually get an awful lot of out things that make them stop and pause and think."
'Full on rave'
The festival director organised Belfast's first baby rave in 2005. Over the the past eight years it has been on one of their most popular events, and they have staged them in towns and cities across the UK and Republic of Ireland.
"It's a full on rave with visuals - we have dancers, we have hanging mobiles, a proper DJ, and a really good sound track, she said.
But for those worried about the impact on little ear drums, Ms Fitzgibbon added that they had "evolved the right beats to make it work for babies, but the sound levels are obviously vastly lowered to what they would be in a nightclub".
"The main thing is about dancing with your baby and its wonderful how positive a feeling it is," she said.
Free activities
The director added that there was a strong focus on dance in this year's programme, with performers from Belgium and Holland joining local companies on the festival line up, with events in Belfast's Lyric theatre, MAC and Grand Opera House.
"For me the really exciting thing is that we bring some of the best performing arts for children into some of our best venues. And then we mix it up with a whole load of galleries and exhibition programmes," Ms Fitzgibbon added.
In addition to the live performances, there will also be lots of free activities such as creative writing workshops, balloon modelling, badge making, games and a magic show.
Young at Art was founded in Belfast in 1998, in response to a perceived lack of public arts provision for young people in Northern Ireland.
Through its annual festival and other projects, the charity's mission is to "encourage children and young people under 18 to enjoy the arts, develop awareness of its impact on their lives, and have a say in what their arts provision should be".