Union flag protests: PSNI says policing cost is £20m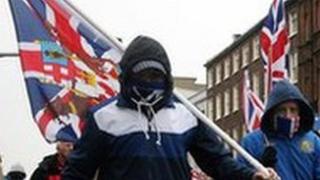 The cost of policing union flag protests in Northern Ireland has reached £20m.
The figure was revealed at a meeting of the policing board on Thursday.
Police Service of Northern Ireland chief constable Matt Baggott said the money was "wasted" dealing with "disorder that should never have happened in the first place".
Protests over the union flag dispute have been taking place since 3 December.
Many people within loyalist communities were angered by the decision of Belfast City Council to restrict the number of days the flag is flown at the city hall and took to the streets to protest.
Some of the demonstrations have resulted in violence, and more than 100 police officers have been injured, although none has been seriously hurt.
Mr Baggott said £11m of the cost of policing the protests had been "new money" and the rest had resulted from "police officers' time not being spent on the things that matter".
"I think that it's a sadness," he added.
He said the money "should have been spent on tackling drug dealers, on officers patrolling in the heart of our most disadvantaged areas, on combatting people trafficking and new technology"