45 jobs to go with travel shop closures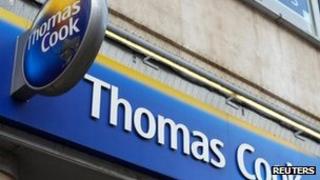 A total of 45 jobs are set to be lost Northern Ireland with the closure of six Co-operative Travel shops and two Thomas Cook branches.
Earlier this week, Thomas Cook said it was cutting 2,500 jobs across the UK and closing almost 200 stores.
The company has now confirmed it plans to close Thomas Cook stores in Carrickfergus and Newry.
Co-operative Travel shops in Strabane, Coleraine, Limavady, Newtownbreda, Antrim and Bangor are also set to shut.
Thomas Cook and the Co-operative Group merged their High Street travel businesses in 2010.
The move brought together 1,204 stores, but both Thomas Cook and Co-operative Travel retained their separate branding.
Joanna Wild, managing director of the Thomas Cook Co-operative retail network, said: "As a large retailer we regularly review our network to make sure we have the right stores in the right places for our customers and regrettably there are occasions where we need to close certain branches.
"Following careful consideration, we have announced that eight stores are proposed to close in the Northern Ireland region and we are working with those colleagues who are affected," she added.
Ms Wild added that her company wanted to "thank both our colleagues and customers for the commitment and understanding during this process".