Sinn Fein oppose proposed amendment to NI's abortion law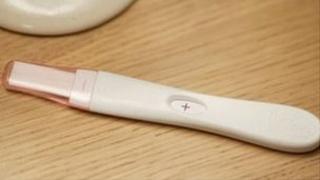 Welcomed by some, ridiculed by others, Belfast's first private family planning clinic opened its doors last October.
The Marie Stopes clinic confirmed it would offer abortion, while pledging to operate within the law. This permits abortion in exceptional circumstances, such as where a woman's life is in danger. Those objecting could do little more than protest.
Until now.
Three MLAs from the Stormont justice committee, the DUP's Paul Givan and the SDLP's Alban Maginness, backed by the UUP's Tom Elliott, came up with a plan: amend the new justice bill so abortions, where permitted, would only be carried out by the NHS.
They argued only the NHS provided robust regulation.
Almost immediately, Sinn Fein said it would oppose the change - but for a week now has refused to say whether it will help veto the amendment using a petition of concern.
Alliance MLA Anna Lo has signed a petition - but it is not clear whether Sinn Fein's 29-strong team of MLAs are prepared to provide the bulk of the 30 signatures. The petition would ensure that the amendment required nationalist consent to pass.
'Health matter'
In an interview for BBC Northern Ireland's The View, Sinn Fein's Caitriona Ruane said it was clear how her party felt about the amendment.
"This is bad law - it's not a good way to be doing law - tagging it on to the end of a criminal justice bill," she said.
"This is a health matter. Sinn Fein will be opposing it and we are in discussions around how we will do that."
She complained it was men who were bringing forward the amendment which now carries the names of two other MLAs - the TUV's Jim Allister and the DUP's Jim Wells.
"I wonder did those men...consult with the women in their parties. Really what we need to do is ensure women's lives are protected," she added.
The DUP is firmly behind the amendment, while Alliance has now lined up against.
Judith Cochrane from Alliance said her party would oppose the amendment because it made no sense - and could force a woman already in private treatment into the NHS.
But the position of other parties is not so clear. The Ulster Unionists allow for a conscience vote on moral issues. The SDLP refused to comment on whether it is backing Mr Maginness's amendment - saying it is still under discussion.
Beyond Stormont, campaigners on both sides of the argument are lining up to lobby politicians.
Pressure
The amendment has won support from a social justice group within the Church of Ireland, the Presbyterian Church and the Roman Catholic Church. Tyrone GAA manager Mickey Harte issued his own statement - asking those opposed to the amendment to rethink their position.
As Sinn Fein will play a key role in the fate of this amendment, pro-life group Precious Life has printed leaflets to pressure the party and has been targeting its constituencies - not least Mid Ulster where the by-election took place on Thursday.
There, a group of students from St Mary's Grammar School, Magherafelt, are continuing their own anti-abortion campaign.
Their teacher Sheila Fullerton expressed disappointment that Martin McGuinness, MLA and deputy first minister, had not responded to their letter last December requesting he personally receive the 3,000 strong petition they had gathered.
"It was a poor show that we didn't get a reply on the students' behalf because they are the future electorate," she said.
The deputy first minister's office said it had no record of the request.
In a bid to reassure supporters, the newly-elected MP, Sinn Fein's Francie Molloy posted a tweet this week urging voters not to be confused and insisting Sinn Fein was opposed to abortion on demand.
In west Belfast, Rosie Nolan, who said she votes for Sinn Fein, expressed concern that the party was opposed to the amendment - and might even go so far as to block it.
"We don't want abortion in this country north or south," said said, claiming Sinn Fein wasn't listening.
There are other voices however in this debate who are in favour of choice.
On the Queen's University campus, many of those questioned by BBC NI's The View expressed support for Marie Stopes.
'Pro-choice'
"I think Marie Stopes should be allowed to carry out abortions under the law," one student told me.
"I'm pro-choice," said another young woman.
Another female student said it was "small minded" to think abortion was totally wrong.
"There are certain situations where it is sort of the only option," she said.
It is this view that Sinn Fein may be increasingly taking into account as it manages constituencies north and south of the border.
Commentator Fionnuala O'Connor said Sinn Fein had tried to keep both ends of the argument open.
"Martin McGuinness did it in a verbal intervention some time back when he started off saying we are an anti-abortion party and ended up saying it's up to a woman to make her own choice. But for a woman to make her own choice there has to be a choice available," she said.
Sinn Fein insists its position is no different in Northern Ireland from the Republic of Ireland.
Come Tuesday when the assembly votes on the amendment, it should be clear what Sinn Fein and the SDLP are prepared to do.
Whatever happens, abortion will continue to pose challenges for all the parties, as the health minister is preparing to consult on guidelines for doctors and nurses.