North Belfast bomb blast 'was attempted murder'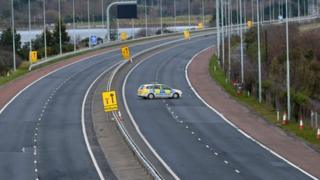 Police are treating a bomb attack near officers on patrol in north Belfast as attempted murder.
Three officers escaped injury in the blast in the Hazelbank area near the M5 on Saturday evening.
The area was sealed off for more than 24 hours as searches were carried out by police and bomb disposal experts.
Ch Supt Henry Irvine, of the Police Service of Northern Ireland (PSNI), said it was "only by good fortune" that nobody was killed or badly injured.
The incident happened as officers, responding to a call, made their way along the Duncrue towpath.
DUP councillor Robert Hill said it seemed police had been lured into the area.
"From what I understand, the police had a call to go down into the area," he said.
"While they were in the area, an explosion took place and it would seem this was an attempt to kill police officers.
"It's an area that's used by all sections of our community - it's used by young families, it's used by cyclists, dog walkers - anybody could have been caught up in this."
A PSNI spokeswoman said: "Police can confirm that an explosive device detonated.
"It is believed that the target was police officers and police are now treating it as attempted murder."
The spokeswoman said the officers were left badly shaken but were not injured.
'Complete disregard'
Ch Supt Irvine condemned those behind the attack, and appealed for any witnesses to come forward.
"This is a well-known area that is used every day by members of the local community," he said.
"It is only by good fortune that police officers and members of the public were not killed or seriously injured last night.
"Those who carried out this attack have shown complete disregard to the safety of the local community and the police officers serving this community."
The M5 reopened on Sunday night although the towpath remained closed between Dargan and Fortwilliam.
The remains of the device have been taken from the scene for forensic tests.
Also on Saturday, Glenmachan Street in Belfast and surrounding streets were closed while experts dealt with a suspicious object.
It was declared a hoax after a controlled explosion was carried out.
There were traffic problems on the Westlink for several hours as the Broadway off-slips were closed in both directions.