Joe Swail hits the comeback trail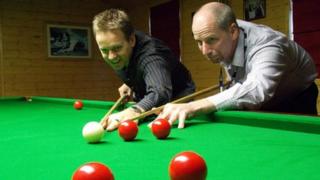 There's a classic line in the 70s Clint Eastwood western, The Outlaw Josey Wales, when Eastwood, playing the eponymous hero, is confronted by a bounty hunter.
"A man's gotta make a living," is the agent's defence of his trade, to which Clint coolly replies: "Dyin' ain't much of a livin'."
For the young Joe Swail, with his soundalike name, the cult movie provided a ready-made peach of a nickname as he set out on his professional snooker career back in 1991.
And over the next two decades, the Belfast-born 'outlaw' strode through the world of snooker with all the swagger of his gun-slinging namesake.
But eventually, like that unfortunate bounty hunter, he began to feel that his chosen profession wasn't much of a way to make a living.
Challenge
"When for 25, or 27, years you've been travelling, you've been living out of your suitcase, that's very difficult to comprehend," said Joe.
"You're knocking on in the game a bit and it does take its toll and that's what happened to me; because I lost a lot of confidence, I started to detest that side of things. I lost the confidence, fell out of love with the game and I couldn't wait to get out of it."
Eventually, he dropped out of the world's top 64 and lost his professional tour card. At 43, many people believed that was it - career over.
But having refused all his life to be held back by a congenital hearing impairment, Joe is not one to duck a challenge.
"Now that I've been away from the game and I've got involved in coaching and analysing the game I was able to regain my interest in the sport.
"I started picking up the cue again and practising and I'm slowly getting there. It's going to be a long road, but who knows?"
I caught up with Joe for a quick game at his home in Belfast. Finding myself behind the yellow and tight on the back cushion from his opening break, I can confirm that he seems back on form.
Paying off
But it will, I suspect, come as no surprise to you to learn that I am not, currently, in the world's top 10,000!
Joe, however, has beaten some real players recently. As an amateur, he has effectively paid his own way round Europe turning in polished performances at qualifying tournaments.
Now, it's paying off.
"I think I'm the only amateur ever to have made it to the grand finals," said Joe, referring to the Players Tour Championship Grand Final, which starts in Galway on Tuesday.
It's the fifth richest tournament in snooker and will feature nine of the world's current top ten.
"I'm just going to see how I get on and if there's any life in the old dog yet," said Joe.
Look up Joe's Wikipedia page and it lists career match winnings of £1,068,765. But with his current form and a new tour card there if he wants it, that figure seems certain to change.
While we chatted, Joe admitted he found it "heartbreaking" to lose his professional status, but he described himself now as being "in a good place, mentally" and his rekindled enthusiasm for the game was clear to see.
"I had a great career in the game," he said. "I met a lot of lovely people and went to beautiful countries. I won a few quid, and blew a few quid and had a great time. People may say I should have achieved more in the game than I did but now I feel as if I've got a second chance and, if all goes well, who knows where it may lead me."