Hyponatraemia inquiry: Mother grateful for 'failure' admission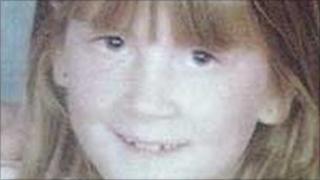 The mother of a nine-year-old girl who died after surgery at Altnagelvin Hospital in Londonderry has said she is grateful a doctor has finally admitted the hospital failed her daughter.
Marie Ferguson said she has waited 12 years for an apology.
Her daughter, Raychel, died in June 2001 at the Royal Belfast Hospital for Sick Children, a day after having her appendix removed in Altnagelvin.
An inquiry is looking into the death of Raychel and four other children.
On Wednesday, Dr Brian McCord, consultant paediatrician at Altnagelvin told the inquiry he was called into the hospital on 9 June 2001 and oversaw the child's case.
He said: "As you have heard, we failed - Raychel was failed - regardless of any claim for negligence and liability.
"She was failed in that she walked into hospital but didn't leave in a better condition.
"Indeed, she left in a much worse much worse... she died."
He told the inquiry that to lose a child was "totally against the natural order of things", and added that he had also lost a daughter.
Witness box
"As a parent to a parent I would like to offer you my heartfelt condolences. I didn't have any chance formally to do that, and I would like to have done it face to face," he said.
"I feel that communication difficulties, particularly on my part, has added to your distress. For example, the false hope that was offered and I professionally offer my apologies for that."
Responding, Marie Ferguson said: "We've always said from day one that Altnagelvin had failed Raychel but for Mr McCord to get up in the witness box and look directly towards myself and my husband and other family members, it meant a lot.
"I get very angry to hear that it took Raychel to die... If she had been given the basic care, if nurses had listened that night to what we were telling them about Raychel, and the recording, documenting input and output, then I believe Raychel would have been here today."
The inquiry is examining the fluid levels administered before the children's deaths.
In the case of four of the children, an inquest stated that hyponatraemia was a factor that contributed to their deaths.
Hyponatraemia is the term for a low level of sodium in the bloodstream causing the brain cells to swell with too much water.