St Patrick's Day: Thousands at parades in NI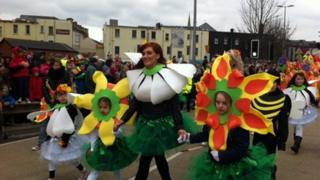 Thousands of people have celebrated Saint Patrick's Day with parades across Northern Ireland.
One of the biggest carnivals was in Belfast, where up to 15,000 people gathered.
The procession left the city hall at noon and made its way to Custom House Square for an open air concert.
Other parades took place in Downpatrick, County Down, Londonderry, Enniskillen, County Fermanagh, and Armagh.
The Belfast parade was followed by a concert, headlined by the X-Factor's Amelia Lily.
Deputy Lord Mayor of Belfast Tierna Cunningham, of Sinn Fein, said it was a great day out for everyone.
"Ultimately, it's about celebrating St Patrick but it's also about having fun and that's what we need in this city; a bit of fun and a bit of vibrancy and a bit of colour," she said.
"It's just been fantastic, everybody is having a great time."
The Belfast parade was part of a three-day festival in the city, which included dramas, talks, exhibitions, and arts and crafts.
Another large parade took place in Londonderry with many people turning out to see the procession leaving Derry City Council car park.
Organisers said it was the biggest St Patrick's Day event in the UK City of Culture to date, involving 40 groups from the city.
Snake
In Enniskillen, St Patrick had an eventful arrival - landing on an island by helicopter before being captured by Vikings who brought him ashore on their long ship.
The parade through the town was led by what organisers described as the "longest snake in Ireland". It had been decorated and carried by hundreds of children.
This was the third year volunteers put on a festival in Enniskillen and they said that despite the tough economic times, they had been overwhelmed by the support of local businesses.
There was also a carnival parade in Armagh city centre, accompanied by an afternoon of music.
Meanwhile, almost 500,000 people lined the streets of Dublin to watch the biggest parade on the island of Ireland.