Northern Ireland ministers to meet President Obama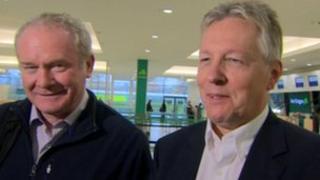 Northern Ireland's first and deputy first ministers are to meet the US President Barack Obama in Washington on Tuesday.
Peter Robinson and Martin McGuinness have visited south and north America over the past two weeks as part of a trade initiative.
They are expected to brief the president at the White House on how devolution has been working.
The meeting is ahead of President Obama's trip to NI for the G8 summit.
The two-week trip is part of a wider programme aimed at promoting Northern Ireland.
President Obama will also meet Irish Prime Minister (Taoiseach) Enda Kenny in the Oval Office on Tuesday, before heading to the Capitol for an annual lunch.
Anthony Kearns of the Irish Tenors will perform at the luncheon.
The Obamas will also host an evening reception where Mr Kenny will present the president with a cluster of shamrocks - a tradition started under President Harry Truman.
The events are taking place on Tuesday because St. Patrick's Day fell on a Sunday this year.