Apology after man shot dead by Army in 1974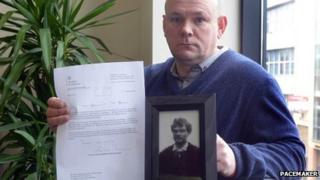 The family of a vulnerable man shot dead by soldiers in County Armagh nearly 40 years ago has received an apology from the government.
John Pat Cunningham was killed in a field near his home in June 1974.
He was 27 but had a mental age of between six and ten. The MoD said his death was "tragic".
The family has welcomed the apology but said more questions needed to be answered.
The apology followed a report from the Historical Enquiries Team (HET), which found that Mr Cunningham's death was "an absolute tragedy that should not have happened".
It said that there was evidence that he had a fear of soldiers and their uniforms, adding that he was "unarmed and shot as he was running away from soldiers".
It added: "There is no evidence that he posed a threat to the soldiers or anyone else."
The HET said the soldiers had "declined" to provide an account of what happened, saying this had resulted in the full facts of the case "never being established".
It also concluded that by not obtaining those accounts, and in the absence of original case papers, the "investigation was not as thorough or effective as it could have been".
In a letter to the family, Armed Forces Minister Andrew Robathan said the HET report made it clear that Mr Cunningham was "blameless".
"Accordingly, I believe it is right and proper to make an apology to you on behalf of the government," he said.
"I hope the findings of the Historical Enquiries Team and our full and sincere apology will be of value by setting the record straight on these tragic events".
However, Charlie Agnew, a nephew of the dead man, said they believed he had been murdered.
"He was a completely innocent man who did not deserve to die," he said.
"The two soldiers who fired at John Pat had leaped over a farm gate before stopping, aiming and taking fire at a man running away from them.
"John Pat was shot in the back."
Mr Agnew added: "There is no other conceivable situation in any democracy anywhere in the world where soldiers can shoot a defenceless man dead and are not held to account for their actions."