Bryan McManus 'reactivated guns for Real IRA'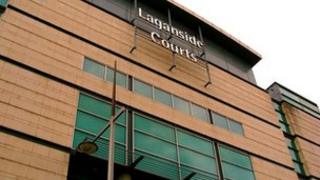 An engineer who reactivated guns for dissident republicans has been told by a judge that it is now inevitable that he will be sent to prison.
Bryan Christopher McManus claimed the terrorists told him the guns were to be used for defence in interface areas.
The 56-year-old, from Aileen Terence in Newry, had pleaded guilty to possessing eight handguns, a rifle and a quantity of assorted ammunition.
One of the guns had been disguised as the removable handle of a walking cane.
Death threats
He also admitted having component parts of weapons, seven magazines, armour-piercing ammunition and "dum dum" bullets - designed to expand on impact.
The weapons haul was recovered from outbuildings behind his house at Aileen Terrace in September 2010.
He also pleaded guilty to conspiring with another person not before the court to convert imitation guns into firearms on dates between 1 September, 2007 and 24 September, 2010.
According to his own lawyer, McManus had been modifying previously deactivated guns for several years.
'Mr X'
The defence lawyer told Belfast Crown Court that police had alerted his client to a number of threats on his life.
He said that after the last threat in 2007, McManus made contact with what he described as "certain elements" who might be able to provide him with protection.
He said McManus was able to reactivate a gun that was given to him by a man referred to only as "Mr X".
'Out of control'
When the accused had done so, Mr X then asked him to undertake other, similar work, the court heard.
The lawyer said McManus had become indebted to the people who had provided him with the weapon and "things spiralled out of control".
McManus told police that veiled threats had been made against his family and he felt that he was caught in a trap, so he continued to reactivate firearms.
During police interviews the accused said he believed that Mr X and his associates were members of the Real IRA. He claimed they had told him the guns were for defensive purposes in interface areas.
The defence lawyer said the accused had initially seen the work on reactivating the weapons as a challenge to his engineering skills.
However, he said McManus eventually botched some of the jobs and claimed to be relieved when he was caught.
Custodial sentence
He said McManus was not a member of any terrorist organisation and had been preyed upon by more sinister people.
The lawyer said his client felt that he was not able to say no to them.
Judge David McFarland warned McManus that a custodial sentence was inevitable.
The case had been adjourned until Friday.