Captain Terence O'Neill: Visionary or failure?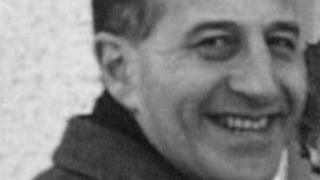 Radical visionary or too English and remote? Risk-taker or downright failure?
Fifty years after Captain Terence O'Neill became prime minister of Northern Ireland, historians, politicians and former officials are still arguing over his legacy.
The former Army officer with the plummy accent, and slightly austere manner, assumed office on 25 March 1963.
It was a very different Northern Ireland. The days of Unionist party rule.
And by the end of his six-year reign the serious unrest that would lead to the Troubles had begun.
Two men who knew Capt O'Neill well were Sir Ken Bloomfield, the deputy cabinet secretary, and Lord Kilclooney, who as plain John Taylor became the young Unionist MP at Stormont in 1965.
They have different perceptions of the man but agree on at least one thing - whatever Capt O'Neill intended to achieve he was handicapped by the fact he could never quite speak the language of the people who voted for his party.
"Terence O'Neill was a gentleman and an officer. Very trustworthy and reliable," said Lord Kilclooney, who in the next breath added he was too Anglo-Irish.
Sir Ken Bloomfield puts it another way: "He was a slightly remote figure. Certainly there were those who said he didn't do enough to chat up people in the tearoom."
In fact he had a reputation for ignoring some of his MPs in the corridors and even not knowing their individual names.
The exact opposite, in other words, of the man who would become his strongest opponent, Ian Paisley.
On the other hand, Terence O'Neill will be remembered as the first unionist leader to, eventually, introduce reforms that would have been unheard-of under previous prime ministers.
'Very hush, hush'
In 1965, he was the first to invite an Irish prime minister (Taoiseach), Sean Lemass, to Stormont.
Ken Bloomfield remembered it as being "very hush, hush."
"Now, of course, in doing it that way O'Neill was taking a big risk," he said.
"Because (former prime minister Lord) Brookeborough and others had said 'Look we're maintaining this line; we won't have any dealings at all with the government in the South until they fully recognise our position and you have broken that protocol unilaterally' and that I think was true and, of course, ultimately, you could say, it did rebound on O'Neill.
"But I think his judgment was that if he'd consulted about it some could say 'never, never, never'; perhaps others would say 'some time, but not now' and the meeting wouldn't take place. He persuaded himself it was desirable the meeting should take place and he took that risk."
So was Capt O'Neill ahead of his time then? Not according to Lord Kilclooney.
"No, he wasn't ahead of his time. He was just not having a rapport with the ordinary Ulster Unionist voters in Northern Ireland. He was seen more to be English rather than Ulster and that was a great disadvantage for the Ulster Unionist party."
Another major milestone in Terence O'Neill's premiership was the televised address he made in December 1968 in response to growing unrest. It's known as the "crossroads" speech but Mr Bloomfield said that happened almost by accident
"It did begin with the words 'Ulster stands at the crossroads'," he said. "But that is not on the autocue roll and it wasn't in the speech as it was presented to him. He simply decided he'd lead off with a phrase he'd used before."
'Major wrong turn'
It was largely well received, certainly outside Northern Ireland.
But Mr Bloomfield said Capt O'Neill took a major wrong turn in his response to an attack by loyalists on a People's Democracy march at Burntollet Bridge outside Londonderry in January 1969
"I think O'Neill was very unwise to give the impression he was principally criticising 'these rash young people for going on this march which you know provoked the situation'," said Mr Bloomfield.
"In fact the main thing that happened at Burntollet was that these young people, if they'd been left alone, could have marched into Derry with no great trouble at all, but in fact they were set upon by a lot of hooligans.
"That was a major mistake which eroded very quickly what had probably been quite a lot of Catholic support for O'Neill."
Terence O'Neill eventually resigned in April 1969 after a bruising general election in which he almost lost his own seat to Ian Paisley and in which he was opposed by several of his MPs, among them John Taylor, now Lord Kilclooney.
Mr Taylor said the party made a mistake making him leader in the first place.
"I think the days of being led by Anglo-Irish people were over, but the Ulster Unionist Party had not recognised the change in politics in Northern Ireland.
"(O'Neill was) the first Northern Ireland Unionist Party leader to have failed. All the other leaders were a success right up to the days of Brookeborough. Then Terence O'Neil lost touch with the average Ulster Unionist and failed."
Ken Bloomfield is somewhat kinder.
"The first individual to break the ice often ends up in a bit of an atmosphere of failure," he said. "He did go away a sort of sad and depressed man."
"I sometimes think in retrospect that if you'd had a kind of hybrid that was half O'Neill and half Brian Faulkner you would have had the ideal prime minister for Northern Ireland.
"Brian Faulkner had the rapport with people in the Orange halls. O'Neill had, if you like, the diplomatic finesse. And I think if those two had been able to collaborate things might have been quite different."