Game of Thrones: No decision on fourth series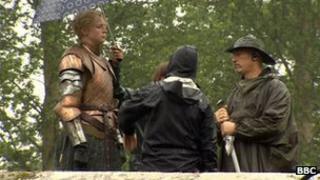 American film company HBO say they have not formally announced if another series of the Game of Thrones will be made.
Major parts of the first three series of the medieval fantasy drama were made in Northern Ireland with the assistance of £6m in grants.
The first and deputy first ministers met with HBO officials during their trip to the United States this week.
They hoped to encourage them to bring a fourth series to Northern Ireland.
First Minister Peter Robinson said: "We will continue to build on our highly successful relationship with HBO and have made a strong argument for any further series to continue to be filmed in Northern Ireland. "
Mr Robinson and Deputy First Minister Martin McGuinness attended the screening of the first episode of season three of the series during their visit to the US.
The third season of Game of Thrones will premier in Canada and the US at the end of the month, and an announcement on the future of the series is expected shortly.
HBO spokesperson Hannah Pullen said: "Season four has not yet been confirmed for Game of Thrones so at this stage we have no further information to share about any future production I'm afraid.
"Should anything change we can let you know. "
Northern Ireland Screen Fund, supported by Invest NI and part funded by the European Regional Development Fund, provided HBO with £6.05m in grants for the pilot and the first two series.
Production for seasons one, two and three of Game of Thrones was based in Belfast with filming in the Titanic Studios and at locations across Northern Ireland including the North Coast, Tollymore Forest Park, Castle Ward and the banks of the Quoile in Downpatrick.
According to the Office of the First and Deputy First Minister (OFMDFM), the series has already generated an estimated £65m for the local economy.
As well as Northern Ireland, parts of the series were filmed on location in Malta, Croatia, Iceland, and Morocco.
The first series premiered on HBO in the United States in April 17, 2011. The series, based on George R.R. Martin's best-selling books, has won numerous awards and nominations.