Historic Derry shop recreated at Ulster American Folk Park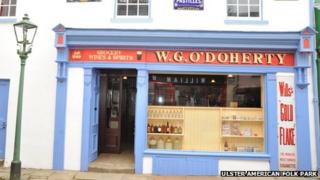 A Londonderry grocery built in the 19th century has been recreated at the Ulster American Folk Park in Omagh.
WG O'Doherty's store was reconstructed using the memories of a young apprentice who worked there in the 1930s as well as an old 1917 credit book that belonged to the firm.
Robert Toland's father bought the shop on Bishop Street in Derry in the early 1930s.
It was opened in 1869 as a grocery and public house.
Mr Toland remembers running through the shop and grocery as an eight-year-old boy.
"The one vivid thing I remember is the Vincent De Paul Society always issued little documents to give people money to buy groceries.
"If they walked into WG's or other shops that document would be worth five bob. It indicates just how many people didn't have enough."
The firm bought in bulk many everyday items such as flour, sugar, and tea, and sold them in small bags.
They also sold many popular brands like Coleman's mustard and Lifebuoy soap.
Mr Toland said that the prices of some of those items in the late 1940s and early 1950s might surprise young people today.
'Life was simple'
"A box of matches is one of the easier ones. There was 240 pence in a pound, and one box of matches was half a penny.
"So, you could get 480 boxes of matches for a pound!"
He also recalled that 32 litres of petrol could be bought for two shillings and sixpence.
"Not a lot of people had a lot of anything," he said. "Life was simple."
Although known for a period as the China Tea Shop, the premises were recognised by the local population simply as 'WG's', after the original owner, WG O'Doherty.
Between 1873 and 1883, a bottling plant operated in the basement of the business and the museum has a stoneware beer bottle bearing WG O'Doherty's own-brand label in its collection.
WG's was regularly advertised in the Derry Almanacs of the late 1800s.