AIB losses narrow to 3.8bn euros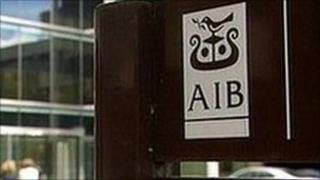 The parent company of First Trust Bank made a loss of 3.8bn euros (£3.2bn) in 2012, an improvement on a 5.1bn euros (£4.3bn) loss in 2011.
AIB said the smaller losses were mainly driven by a 70% reduction in bad debt provisions from 8.2bn euros (£6.9bn) in 2011 to 2.5bn euros (£2.1bn) in 2012.
AIB UK, the part of the bank that includes First Trust, made a loss of £131m compared to a £214m loss in 2011.
Bad debt provisions at AIB UK decreased by 59% to £79m, compared to 2011.
A note in the accounts said that rising mortgage arrears are a particular problem in Northern Ireland.
It added that a mortgage support team had been set up in First Trust to provide a centralised point of contact for mortgage customers in difficulties.
Northern Ireland represents 70% of the bank's UK residential mortgage portfolio.
Detailed figures show that within the UK's residential portfolio almost 40% of owner-occupied mortgages have a loan-to-value ratio of more than 100% - meaning they are in negative equity.
For buy-to-let mortgages more than 50% have have a loan-to-value ratio of more than 100%.