Air support withdrawn in Northern Ireland relief operation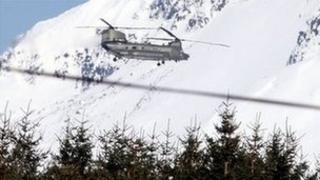 All air support has now been withdrawn from the relief operation to animals stranded in the snow in Northern Ireland.
RAF Chinook and Irish Air Corps helicopters had been dropping emergency food supplies to farms in high-ground areas of counties Antrim and Down.
The Department of Agriculture said it was now re-directing resources to the ground.
The helicopters remain on stand-by if needed.
DUP MLA Paul Frew has said it is too soon to end aerial support.
"This has always been about speed and the helicopters and the Chinooks would be able to speedily get to those farmers and those livestock far quicker than any snow plough or track machine," he said.
"This decision by the Department of Agriculture minister will cost farmers more livestock."
Sinn Fein MLA Oliver McMullan said conditions on the ground had improved, allowing more access.
The helicopters made food drops to thousands of animals stranded, mostly in the Glens of Antrim, which has been one of the areas worst affected by the snow.
A member of staff from the Department of Agriculture travelled with the Chinook crew to tell them exactly where to drop the feed.
In a statement, the Department of Agriculture said it had "worked tirelessly" to assist many farmers who had experienced difficulties due to the severe weather, over the past week.
"We have assessed the situation on a continuing basis and air support has been stood down for today," they added.
Avalanche
"Given that road access has been dealt with we are now redirecting our resources from aerial support to ground support, and over the next few days we will continue to offer farmers help to move their fodder to inaccessible stock.
"Since Monday we have managed a programme of 22 helicopter flights delivering 46 fodder drops in the worst affected areas of County Antrim and County Down.
"We have complemented the air support programme with a ground programme involving Softrak vehicles, which has assisted a further 45 farmers in moving feed to animals. In addition we know that many farmers have resolved issues themselves."
Police Service of Northern Ireland Inspector, Mark Roberts, has praised the work of the voluntary teams who have supported the multi-agency operation over the past week.
"The sheer volume of life saving work that has been done over the past few days would not have been possible without the bravery, professionalism and dedication of our voluntary partners," he said.
Police have urged hill walkers and snow sport enthusiasts to be mindful of the hazards in some areas where heavy snow and strong winds have brought about cornice and avalanche risks. Motorists have also been asked to consider the weather conditions in many rural areas.
Meanwhile, BT engineers will work through the weekend to repair phone lines damaged as a result of the snow.
Services have already been restored to almost 16,500 customers. Counties Antrim and Down continue to be the worst affected.
In a statement, BT said: "Customers who are experiencing issues, but who haven't yet reported it to their service provider, should do so immediately as all faults are not automatically detected.
"Any affected broadband customers are also encouraged to reboot their routers in the first instance to potentially return their lines to full service.
"Comprehensive plans are in place to continue the high volume of work over the holiday period until normal levels of service resume."