NI 'can't afford the damage' caused by benefit changes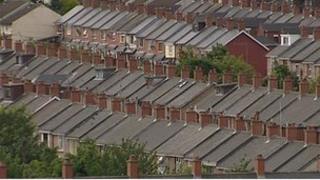 Planned changes to housing benefit will cost NI more money than it saves, two housing associations have claimed.
Social housing tenants deemed to have more rooms than needed will have their benefits reduced.
The government says that will help cut the benefits bill and free up housing.
The NI Federation of Housing Associations and the Chartered Institute of Housing say the changes would cost £21m but cut the benefits bill by just £17m.
Under the government's "size criteria", claimants will be assessed for the number of bedrooms they need.
The housing benefit changes will affect 32,000 people in Northern Ireland, and the NI Federation of Housing Associations (NIFHA) and Chartered Institute of Housing (CIH) are calling for the proposals to be dropped.
NIFHA chairman Cameron Watt said: "It's clear that the numbers don't add up on bedroom tax. Northern Ireland can't afford the human or economic damage this policy would inflict."
A spokesman for the Department for Social Development said the minister, Nelson McCausland, was committed "to continue to engage with ministers within the executive and in Westminster to ensure where possible we can mitigate the impact of the welfare reform proposals locally".