Arvalee Special School in Omagh set to reopen after fire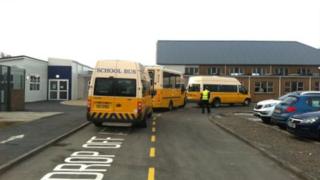 Arvalee Special School in Omagh has reopened, seven months after it was partially destroyed in a major fire.
More than 100 children have travelled to other schools in Strabane and Castlederg since the blaze on 1 September.
Temporary classrooms have been built to accommodate the children.
The cause of the fire has not been determined.
The school caters for more than 100 pupils with moderate and severe learning difficulties, ranging in age from three to 19.
Pupils were sent to other schools after the fire, some in Castlederg and Strabane, adding hours to their journeys each day.
Parent Joan Noble said her daughter was "very excited this morning and ready to come back".
"It's absolutely fantastic, it's fantastic to be back, " she said.
"It has been a horrendous seven months. I was doing an 80 mile round trip to Castlederg and back so it means an awful lot to me and Nicole to be back today and get a bit of normality back in our lives again."
Arvalee principal Jonathan Gray was also happy to be back.
"We came to terms with the fact we lost our resources and we quickly turned that corner and got into the fact that we had to provide education for the children," he said.
"That's what the school is all about - the school's all about the children and it's the children of Omagh.
"So Arvalee is back here, there has been a change, there's different classrooms and different places, but the important thing is we have a facility, we have classrooms, we have a school here now to provide an education for the children."
In the aftermath of the fire, a fundraising committee was set up to help raise money to support the rebuilding project.
Mr Gray praised the support of the community.
"The positive side of it all was the response of the community and local people," he said.
"Their generosity, their well-wishing, their prayers - I'm so grateful to them and to everybody who made it possible to open this building again."
Arvalee opened in 2004, and before the fire broke out, plans were in place to build a replacement school at Lisanelly educational campus site.