PSNI drone purchase gets green light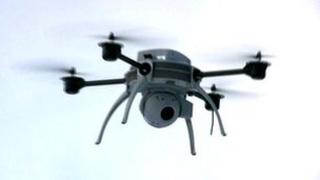 The Policing Board has endorsed proposals by the PSNI to buy a number of unmanned aerial drones.
It is understood the PSNI is to purchase three small drones at a combined cost of around £1m.
The first deployment of the drones is expected to be during the G8 summit in County Fermanagh in June.
Flown by operators on the ground, the aircraft can relay live pictures from high quality cameras.
The drones, or Unmanned Aerial Systems (UAS), will be used in searches for suspects and missing persons. They will also provide support to officers attending calls and when dealing with public order situations.
The decision of the board has been welcomed by the DUP policing board spokesman Robin Newton.
"The so-called drones will be of use in various fields, including the realm of public order," he said.
"With the G8 coming up, I hope that these valuable technologies will form a part of the operation around this major conference.
"The use of unmanned aerial systems will also be useful in helping to cut back on the costs that arise from the deployment of helicopters."
Policing Board Chair Brian Rea said members had sought clarifications and assurances around "the regulation, scrutiny and oversight of the operation of these systems".
"Questions were also raised on the arrangements for the retention and disposal of images obtained from use," he said.
Mr Rea said the new equipment would be "a valuable asset" to the PSNI in policing a range of situations.
"The PSNI confirmed that UAS, when compared to traditional aircraft operating costs, represents significant value for money, can be operated in weather conditions that may prevent other aircraft flying and are easily deployed which will provide PSNI with additional flexibility and resilience in response to situations.
"Members agree the importance of public understanding and confidence in how these systems will be used."
A full review is to be carried out by the office of the Oversight Commissioner after a year of operation to assess the effectiveness of the technology.