Care worker rescues elderly patient from house fire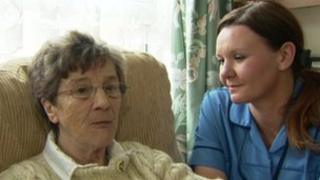 A care worker has rescued one of her patients from a house fire in Newtownards, County Down.
South Eastern Trust Care Worker Sandra Cowan, was on a routine call to Maureen Dorrian, 71, when she found her home filled with smoke.
Ms Cowan pulled Mrs Dorrian from the house and she was taken to hospital where she remained for several weeks.
The fire happened in February but the details have only emerged this week.
Ms Cowan said she pulled Mrs Dorrian out to the front door.
"She was very disoriented and she was covered in a lot of smoke, she was coughing a lot and she was cold."
Mrs Dorrian's daughter said she was extremely grateful.
"If you would have seen the state of the house you would've said there was no way anyone could've come out alive."
"We are eternally grateful for her giving us that extra time with our mother that we might not have had," she added.