600-year-old skeleton mystery at Fermanagh crannog site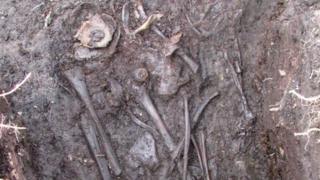 Mystery surrounds a 600-year-old skeleton found at the site of an archaeological dig in County Fermanagh.
The crannog - a man made island settlement - is situated on a site where the new A32 Cherrymount link road in Enniskillen will be built.
The woman, who was in her late teens when she died, was not buried in either a recognised graveyard or in traditional manner.
This has led archaeologists to consider the possibility of foul play.
Excavation director Dr Nora Bermingham dated the teenager's death to around the 15th or 16th centuries.
"The skeleton of a young woman, probably around 18 or 19 with very bad teeth, was found in the upper layers of the crannog," she said.
She said the burial was "irregular", but added the cause of death may only be discovered when the remains are examined by a bones specialist.
"All we can say at the moment was that the burial itself was in slight disarray, it was slightly disarticulated, which means that it wasn't a normal internment," she said.
"This person wasn't laid out on their back in an east-west direction, which is normal for a Christian burial.
"The body seems to have been bundled into the position it was buried in."
Considering whether the young woman may have been killed, Dr Bermingham added: "It's not uncommon for people who have either committed crimes or people who have been murdered or whatnot to have been buried in this fashion."
Dr John O'Keeffe, principal inspector of historic monuments with the Department of the Environment, said: "I very much suspect it was somebody who probably died suddenly and tragically at the site and rather than being brought to a graveyard they were buried there.
"I don't know if that was clandestine or what."
Thousands of artefacts
The skull of the woman has sustained damage, but archaeologists are not sure if that happened prior to death or by disruption of the site in the centuries since.
The crannog site has turned out to be more significant than anyone originally thought and over the last nine months thousands of artefacts have been discovered dating between the 7th to the 16th centuries.
They include the remains of 30 wooden houses, including one which is 12m in diameter.
While the woman may be over half a millennium old, she would have lived at a time when the crannog was coming to the end of its period of habitation.
Carbon dating has confirmed that some of the site's earliest homes were built in and around 670AD.