DUP-Sinn Fein relations 'very poor' says Edwin Poots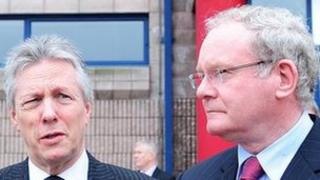 Relations between Sinn Fein and the DUP are at their most strained since power-sharing began, according to the Health Minister Edwin Poots.
The DUP claims relations are very poor, accusing Sinn Fein of sending out mixed messages on dissidents, while frustrating executive business.
The row follows Sinn Fein's ard fheis (annual conference) at the weekend.
The DUP wants Sinn Fein's Gerry Kelly to withdraw comments that he lacks confidence in the chief constable.
The DUP also cited a Belfast Telegraph straw poll of 50 delegates that suggested 26% still supported violence while the Northern Ireland was part of the UK.
"Sinn Fein had a very backward looking conference, a conference which one might have expected 10 years ago," Mr Poots said.
"But as a party that's in government in NI they need to start looking forward and to drive this process forward."
Sinn Fein's John O'Dowd called the poll "dubious".
He said the first and deputy first ministers are capable of addressing issues.
"Martin McGuinness and Peter Robinson and the leadership of the various parties sit down with each other, eyeball each other and have strong words with each other across the table and clear up any misunderstandings or beliefs that the DUP have about Sinn Fein's position and Sinn Fein clear up any belief or misbeliefs that we have about the DUP."