Cliftonville fans Thatcher coffin incident 'disgusting'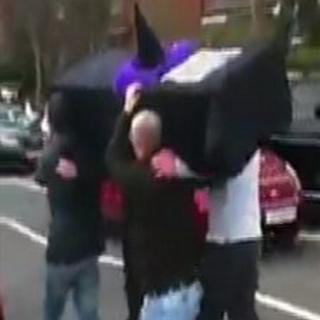 North Belfast MP Nigel Dodds of the DUP has condemned a group of Cliftonville football fans who celebrated the death of Baroness Thatcher by carrying a mock coffin with a witch's hat on top.
An internet video showed the fans carrying the coffin along the Cliftonville Road on Saturday prior to their match with Linfield.
Mr Dodds said the fans' actions had marred the team's success in winning their first league title in 15 years.
He said their actions were disgusting.
"It is disgusting and distasteful that some Cliftonville fans have marred a day of celebration for their club by publicly revelling in the death of Baroness Thatcher," he said.
"This involved a degree of planning to create a mock coffin covered in a black cloth and topped by a witch's hat."
Police said they were aware of the issue and were making inquiries.
"Where there is any evidence of illegal activity, appropriate action will be taken," a spokesperson said.