People in Northern Ireland 'unaware of asthma risks'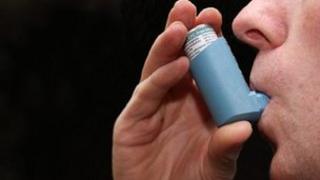 More than 70,000 people in Northern Ireland are unaware they are at risk of a potentially fatal asthma attack, according to a new study.
The research suggests that 55% of those with the condition believe they will not have an attack.
The study has been carried out by Asthma UK Northern Ireland.
The charity's Joan O'Hagan said some people needed to change the attitude that "it's just asthma".
She said healthcare professionals could also help by spotting those in danger.
"This study has revealed that 71,000 people with asthma in Northern Ireland are at risk of a fatal asthma attack," she said.
"They need to ensure they are taking their medication regularly, their preventer inhaler particularly, and to ensure they're using the right technique in taking that inhaler.
"They need to visit their healthcare professional regularly and to agree a personal asthma action plan with them. And they need to watch out for any worsening symptoms of the condition."