Duncrue towpath bombing: Two arrested over PSNI murder bid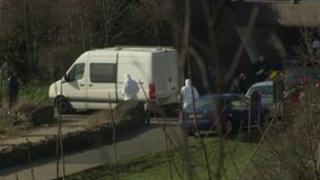 Detectives investigating the attempted murder of police officers in a failed bomb attack in County Antrim last month have arrested two men.
Three officers escaped injury when a bomb partially exploded on the Duncrue towpath near the M5 on 9 March.
They were left badly shaken by the blast but were not injured.
On Tuesday, a PSNI spokeswoman said two men, aged 23 and 42, had been arrested and were being questioned at Antrim police station.
She added that a number of searches have also been carried out in north Belfast.