Downpatrick flooding: Clean-up operation under way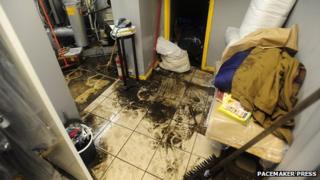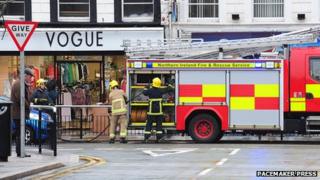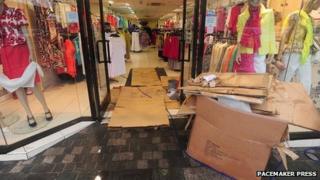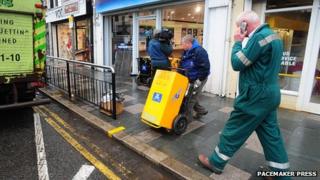 A clean-up operation is under way after heavy rain led to severe flooding in Downpatrick, County Down.
Market Street and the Ballydugan Road areas of the town were the worst hit, with three shops and a pub affected.
South Down MP Margaret Ritchie said the failure of two water pumps, combined with heavy rain led to the flooding.
The owner of a dry cleaning business said it had been the eighth time in the past 10 years that the shop had flooded.
Another businessman, Bartley Murphy of Murphy's Bar, said he arrived to find 2ft (60 cm) of water in the building.
"It is horrendous. The sewage is on the floor now," he said.
He told BBC Radio Ulster's Nolan Show: "This happens twice a year. Where is the contingency plan? I have phoned the water board, the police and environmental health. Where are they?"
"The Department of Environment should be here helping the traders. There is a dry cleaner's shop with wedding dresses... he has six inches of water in the shop."
Trevor Curran, the area manager for O2, said the back of the shop on Market Street had been under about 1ft (30 cm) of water which ran from the street under the front door," he said.
"All our power cables are on the shop floor so they've all been submerged. So our systems and power are off.
"We've been trying to get the water pumped out. We've been in contact with the IT team to see what damage has been done, but the computers in the back office were totally submerged."
Muriel McKee, who works next door in Vogue, said she had come into work at 07:00 GMT to sort out a delivery.
"The water had come into the shop. It was like a tidal wave when a car went past. I had to lift clothes off the floor and throw them over the rails. It was lucky I was in early," she said.
Noel Traynor owns a dry cleaning shop in Market Street and said his business had been affected before.
"Six months down the line you are still smelling the sewage that comes in. The clear-up takes a couple of days. Apart from duvets and clothing, your wrappings and things like that are all lost.
"Financially, you have to clear it up yourself. You can't go to insurers because once you've been once or twice your premiums go up."
Another trader said the water was up to 1ft (30 cm) deep in his shop.
"I am just sick to the teeth of this," he said.
Margaret Ritchie said she was seeking answers about what happened and is due to meet NI Water officials on Monday.
"This could have been avoided if NI Water had put in place a proper back-up system which would work during periods of interruption to the electricity supply," she said.
"Minister for Regional Development and NI Water must now provide clarification as to why this happened; what measures will be put in place to ensure it will not happen again; what back-up systems they have in place to prevent such incidents in the future, and what compensation will be offered businesses who have lost produce."