NI child abuse levels 'disturbing' says NSPCC report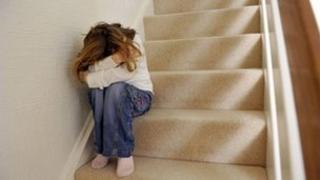 Fewer children are suffering violent deaths in Northern Ireland but the level of child abuse remains disturbing and often "hidden", according to a new report.
The NSPCC said that while child deaths as a result of maltreatment had fallen, more needed to be invested in services to tackle abuse.
The report, How Safe are our Children, found that for every child in the UK subject to a protection plan or on child protection registers, eight more have suffered maltreatment.
The charity estimates it would cost up to £0.5bn every year to provide protection plans to just a quarter of these "hidden children".
The report, a UK-wide study, stresses the need for early intervention.
The NSPCC said there were more than 2,000 children on the child protection register in Northern Ireland.
Neil Anderson, head of NSPCC's services in Northern Ireland, said: "There is a strong evidence base for the development of family support hubs in Northern Ireland, underscoring a clear need for investment in early intervention.
"The report also highlights how England, Scotland, Wales and Northern Ireland each measure child protection data, and makes suggestions on how to strengthen each.
"In Northern Ireland we certainly feel it would be helpful to further categorise Children in Need referrals into those that had an element of abuse or neglect and which, without intervention, could potentially be envisaged as progressing to child protection registration."
Mr Anderson said that suicide rates were of concern in Northern Ireland.
"We need to ensure that help is out there for, and known to, vulnerable young people," he said.
"While Northern Ireland has the highest child protection registration figures in the UK, it is a positive step forward that we are witnessing a decline in the number of children and young people being on the register for more than two years."
The report also highlights challenges including trafficking and internet safety, implicit in modern child protection.
"The clear message is that we cannot be complacent, and that child abuse is more prevalent - and more devastating - than many of us are prepared to recognise," he said.
How Safe are our Children - launched by the charity on Thursday - is the first ever national child abuse tracker.