Union flag dispute: DUP cenotaph proposal fails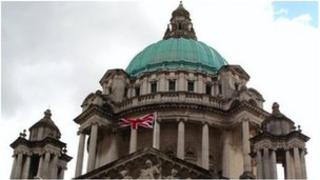 A DUP proposal to fly the union flag every day of the year from the cenotaph in the grounds of Belfast City Hall has been rejected by city councillors.
Sinn Fein, the SDLP and Alliance voted against change to the council's policy while unionist members voted in favour.
The DUP proposed the motion amid controversy over an earlier decision to limit the number of days the flag is flown from the 106-year-old city hall.
On Thursday, the Royal British Legion said it was opposed to the proposal.
The cenotaph proposal was brought before a meeting of the council's Policy and Resources Committee on Friday, which took the vote without a discussion.
The full council is expected to consider the matter next month but it will fail without support from Alliance.
In a statement, Alliance Councillor Maire Hendron said her party did not support the cenotaph proposal, after the results of a council equality assessment advised against it.
She said Alliance had made its decision in line with its long-standing designated days policy.
Ms Hendron said the designated days option was also the favoured outcome of the majority of respondents to a consultation - including the Royal British Legion.
The veterans' organisation said its Garden of Remembrance in the city hall grounds was "sacrosanct" and it did not want it politicised.
The DUP said it noted that "there is a difference of opinion among veterans organisations on this proposal with some fully supportive but others not".
"It is the DUP's intention that there is a positive outcome at the May Council meeting. It is pursuing all avenues with other parties to achieve this goal," a party statement said.