Sinn Fein denies different school bullying policies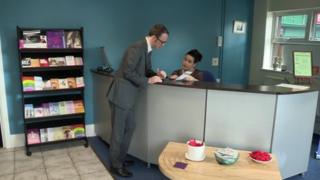 Sinn Fein has denied having a different attitude to bullying in schools north and south of the border.
The party has introduced tough new laws for schools in the Republic of Ireland, but has so far resisted calls for similar legislation in Northern Ireland.
Homophobic bullying is one of the most common forms of bullying in school.
The Rainbow Project - which lobbies for rights around sexual orientation - believes more could be done.
Gavin Boyd is the project's education equality officer: "I think it's disappointing - I think the legislation that was introduced in the Dail was very promising," he says.
"It highlighted a lot of the issues that the sector has raised over the past three years about the need to name specific different types of bullying - the need to report and record different types of bullying that can inform policy decisions further on down the line."
We spoke to some young people in Londonderry about their experiences.
Keith Moore, 19, came out at the age of 14 as bisexual.
"Then it obviously got out around the school and it was just basic name calling, teasing and the same sort of stuff up and down the corridors and in class," he says.
"And that went on the whole way through until I finished school."
Seana Hampstead also had a difficult time at her school.
"Whenever I was going with a girl who was also from my school - the girls who were from her year would gather around us and watch us when we were having our lunch and just hanging out with each other," she says.
"They would sit and stare at us as if we were some kind of side show or freak show."
Keith says at his school there was minimal intervention by teachers and he says that had a big impact on his education: "I didn't want to go to school because of it and I think the teachers should have done more and dealt with it better."
'Chalk and cheese'
That's something echoed by 24-year-old Daniel Diver.
"I misbehaved to cover up the fact that I was gay," he says.
"It was a horrible experience, it was very difficult and a lot of it came down to a lack of understanding in teachers and pupils - there wasn't very much knowledge about being gay."
So what is the law regarding all kinds of bullying here?
Each school is legally obliged to have an anti-bullying policy - but it is up to the individual school to decide what is in it.
Dr Noel Purdy from Stranmillis College has carried out extensive research into school bullying. He says there is a "huge disparity" in policies.
"They are really chalk and cheese. Between some fantastic examples of anti-bullying policies which clearly have been arrived at in conjunction with parents, pupils and teaching and non-teaching staff, and others which do appear as if they've been written very quickly and in a perfunctory manner."
Sinn Fein Education Minister John O'Dowd says that in his opinion schools were doing a good job in Northern Ireland but he adds: " I have made a commitment to The Rainbow Project that I will study that legislation and if there are lessons to be learned from it for us then we will learn those lessons," he says.
"But our policy is quite definitive: all bullying regardless of what it's about including homophobic bullying is wrong."
But others believe more could be done - and teachers are keen to get more training.
Dr Purdy says his research has found teachers are crying out for more resources.
"I suppose the more guidance that's given by the Department (of Education) and by the assembly in this regard is bound to be helpful for schools," he says.
"At the moment some of them are doing excellent work from what I can see, but there is this disparity and I think any moves which help schools to create practice right across the board it has to be welcomed."