When going to the gym is a walk in the park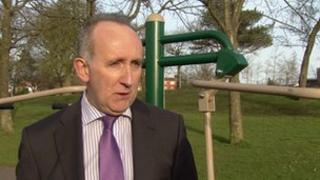 Going to the gym is rapidly becoming a walk in the park.
The Active Belfast Partnership has come up with a new free way to get a little extra exercise.
It is providing nine new gyms across the city, all free of charge. They can all be found in the open air in the city's parks.
Now fresh air and exercise can mean more than walking the dog. Twelve fitness machines are already in place at Ormeau Park in south Belfast.
Andrew Hassard from Active Belfast said the group felt the time was right to get Belfast more active.
"Obesity is on the rise and people need to improve their physical health and their mental well being," he said.
"We need to get more people more active more often."
He said the outdoor gyms have been in place since last September and were being used by local communities.
Andrew Steenson, a physical activities officer, said the machines were similar to those in a modern gym.
"The main difference is in terms of resistance, indoor equipment can be set and moved on a weight stack, this equipment works more on your body weight.
"There is definitely a machine for everybody to try out. My view is that people who don't enjoy physical activity just haven't found the right physical activity to try. So come down and try," he said.
Seven of the nine outdoor gyms have already been completed.
These are in Blythefield Park, Musgrave Park, Falls Park, Ligioniel Park, Grove Park, Mountforde Playground and Alexandra Park.
The nine sites cost approximately £160,000.
Active Belfast is a cross community initiative involving the Belfast Trust, the Belfast Health Development Unit, the Public Health Agency and Belfast City Council. Belfast Healthy Cities have also provided support.