South Eastern Health Trust campaign to cut smoking in pregnancy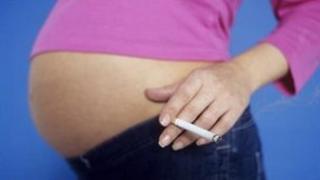 A Northern Ireland campaign to help women to stop smoking during pregnancy has been launched by midwives in the South Eastern Health Trust.
The trust's figures show that 15% of its maternity patients smoke during their pregnancy, despite the damage it does to their unborn children.
Midwife Cathy Bell said smoking during pregnancy increases the risk of complications for the baby.
She said the risks included premature birth, low birth weight and cot death.
"There is a real problem, in that pregnant women who are smoking are not only endangering their own lives, they're also endangering the life of their unborn baby," Ms Bell said.
"Plus, they are setting their unborn baby up for complications in later life - things like asthma or glue ear, and those are very painful conditions for babies to suffer."
The 'Smoke Free Womb' campaign uses face-to-face contact, phone support, Facebook, a DVD and cartoons to get the message across.
Expectant mothers who take part in the drive will be asked to sign a pledge to work in partnership with the trust's midwives in an attempt to quit smoking.
They will be given a letter outlining how smoking during pregnancy can affect their unborn child and they will be offered a meeting with a health improvement midwife.